Baby massage is a nice way to relax together as a parent (s), to connect with your child and thus strengthen your bond. The baby massage is not only fun to do, but it is also very useful and helpful for your child.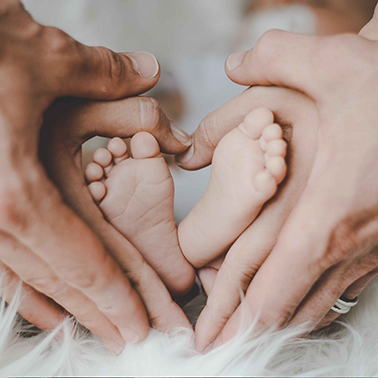 Baby massage isa wonderful moment for you and your baby together, in which you can

(even better) get to know and enjoy to the fullest!
You do baby massage together with your child from 6 weeks to about 9 months old.
Baby massage is a nice way to get to know each other. Without words we learn to understand the language of the baby, "body language". In the first 9 months of your children's life, this is the only language they speak.
By touching with attention, parents learn to understand their child better and to give them security. In this way, the basis of mutual trust is strengthened. Trust and safety provide the basis for a good development for your child.
This massage workshop is suitable for all mama's/daddy's with babies. In addition, it is very useful for babies who cry a lot, have abdominal cramps, are restless, stretch themselves, were born with a caesarean section and incubator babies.
It is a gift for yourself and your child or give it as a maternity gift, nice for dad /mama, parents, family and/or friends to give.
Having an VOUCHER give a (maternity) gift!
We also give a 4 week Mama and baby yoga series

Baby massage workshop
Piet Heinstraat 98 The Hague
Saturday, November 4
11.30u to 13.30u
During this baby massage workshop:
Taught different skills and techniques to massage the baby. The massage techniques that are used come from the Bio-Release massage and the Ayurvedic baby massage. During the massage, the body is mainly massaged from the inside out and from top to bottom. This has a soothing and relaxing effect on the baby.
Massaging STIMULATES the development of the SENSES, FEELING, BLOOD Circulation of the baby's body, MUSCLES and BODY AWARENESS of your child. In addition, children sleep better with massage.

It increases happy hormones, such as oxytocin and decreases stress hormones.
Babies DISCOVER their bodies and that helps the DEVELOPMENT of motor skills, digestion, nervous system and brain.
The CONTACT between you and your baby benefits a secure ADHESION and strengthens TRUST.
You MEET other mothers/fathers with babies and there is room for questions and to exchange experiences.
Massaging has a beneficial effect on COMPLAINTS such as abdominal cramps, unrest and often crying, overstretching.
After the workshop you will receive a HAND-OUT in which all massages are described, so that what you have learned can be read and practiced at home.
A 2 hour workshop, together with others mamas and/or dads. As parents you can also come together with your child.
For this workshop you pay only €35,-.
For this workshop you pay €55 together.
The workshop is for every mama and dad with baby accessible and in a relaxed, pleasant atmosphere. You can participate with your child from 6 weeks to about 9 months old. There is always room to feed, comfort, care for and let your baby sleep. incl. handout.
THIS WORKSHOP IS ALSO WITH A MX & MATCH STRIP CARD TO BOOK!