Have you recently given birth and do you want to experience a lesson especially tailored to you in your own environment with your baby? That's possible, I'll come to your home when it suits you. Or you can book this at Home class together with a friend who has also recently given birth.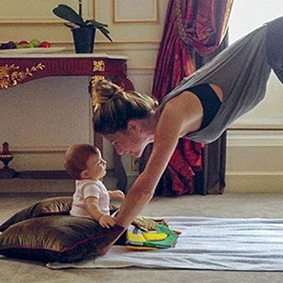 Mama and baby yoga is a pampering moment for you and your baby, in which you get to know your baby (even) better and confidently approach motherhood
Mama and baby at home is a practical workshop in which we pay attention to you and your baby. With useful information and tools & tips. A nice and relaxing moment for you and your child gives a good start and means that you experience less uncertainty and stress and are therefore less tired, your body will recover more easily and relax better. Because this is so incredibly awarded to every mother!
The lesson may include:
Importance of the 4th TRIMESTER
Your HORMONES, bonding and now mama .
MASSAGING your baby, this has a positive effect on your baby; they discover their body, relax more easily and it reduces crying and stomach cramps, among other things.
Yoga postures for your own RECOVERY, to allow your body to regain its POWER and to let the ENERGY flow. For abdomen and pelvis (bottom), neck, shoulders, back.
Yoga variations are offered where you can INVOLVE your CHILD in a playful way.
Safely CARRY and hold your baby in a comfortable way.
Finding BALANCE with your baby, attachment, development, (eye) contact, etc.
How to use ADEM for yourself and how to use it to reassure your baby.
For this mama and baby yoga at home class you pay: €125 for 1,5 hours.
It is a present for yourself and your child or give it as a maternity gift, nice for dad, parents, family and / or friends to give to the newly born mama.
Having an VOUCHERgive a (maternity) gift!
No travel costs are charged within The Hague, outside of The Hague all travel costs are calculated in consultation