In mama flow yoga classes do you really have some time for yourself! Om release tension, to let the energy flow again and thus to find a balance as (new) mama.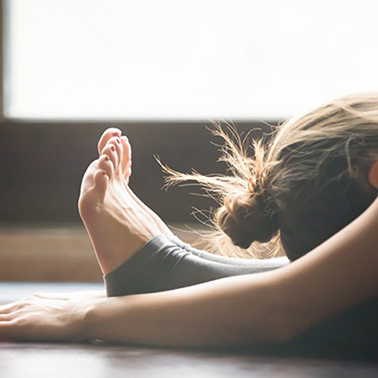 The lesson gives your body & mind a good condition, a stronger and more vital body and a positive and relaxed mindset!
In mama flow yoga classes combine hatha yoga and mindfulness exercises; the yoga exercises are more intensive and help get your body more into its strength, firmness and flexibility and let the energy flow again.
The mindfulness exercises stimulate you to develop a sense of confidence, peace and conscious attention in the here and now. In addition, knowledge and experiences are shared with each other through information, which is experienced as very nice.

Mama Flow yoga
Van Beveringkstraat 188 The Hague
Thursday night
20.30u to 21.45u
The yoga exercises are specially aimed at mamas, even after a caesarean section.
To BEGE your body in a calm wayLEIDEN and put it back in CONDITION.

But also to STRENGTHEN and 'BRING BACK TOGETHER' by safely activating your abdomen, back and pelvic floor muscles.
Build up of STRENGTH, FIRMNESS and SOUPLESSE in the body.
RESTORING POSTURES, which can help with a lack of sleep, balance hormones, calm the nervous system and promote blood circulation.
Trains your CORE MUSCLES and pelvic floor in a safe way.
Practicing Conscious ATTENTION.
Create deep RELAXATION, REST and BALANCE for yourself.
In the class we combine hatha yoga postures, muscle strengthening exercises, breathing techniques, mindfulness and 'restorative' yoga, to ultimately achieve deep relaxation.
INFORMATION and EXCHANGE along with other mama'S.
Weekly group lessons together with others mama's. You are welcome from 6 weeks to 2 years after your birth. The lesson is therefore certainly not only intended for (new) mama's, all mama's are welcome, even without yoga experience.
THESE LESSONS ARE ALSO WITH A MAMA AND BABY MOVE MIX AND MATCH TO BOOK!
De Mama Special lessons provide, among other things, more knowledge and depth.
The next 'Mama Specials' are offered:
Birth Circuit (BC); we go through many birth positions through a circuit
Birth Breath (BB); all breathing movements that are important in childbirth are offered
Birth Together (BT); this is a fun prenatal yoga class together with your partner :)
Birth Mindset (BM); positive mindset is very important in childbirth! How do you do that and how to deal with stress & anxiety in childbirth
Mama Mindful (MM); in this lesson there is attention for your new mamas. We talk and share, but there are also simple exercises to really experience relaxation and respond to peace and tranquility.
Sign up for the Mama Specials via us online schedule.
In addition, we offer for all (upcoming) mama's within our community, who need explanation, support, questions and/or guidance it MAMA SUPPORT moment online On. We give this group free once a month! To register via the schedule.