Prenatal pilates Den Haag
Zwangerschapspilates speelt een belangrijke rol bij het versterken van de bekkenbodemspieren, de kern, de buikstreek en het ontwikkelen van opzettelijke controle over uw lichaam. Je voelt je ontspannen, in balans en hebt minder last van bekkeninstabiliteit.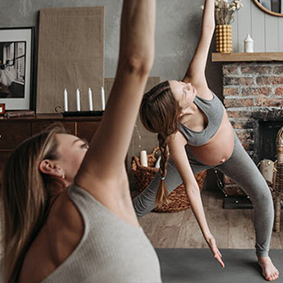 Through awareness you learn to trust, let go, feel strong and in balance. 
During pregnancy your body is constantly changing and trying to adapt to a new centre of gravity. You may feel stiffer in some areas of your body, weaker in others. Your hip joints move to accommodate your growing belly, and your pelvis pivots in a way that increases the pressure on your lower back. Your breasts may start to feel heavier and, as a result, intensify the pressure on your neck.
The prenatal pilates class aim to prevent, correct, and alleviate the discomforts caused by a constantly changing body. The exercises are not only safe, but they also accommodate each stage of your pregnancy.
Your (birth) partner is indispensable and plays an important role in the birth process. Birth Preps can therefore be booked additionally and in combination. You will learn how to play an active role in your own birthing experience together. 

Prenatal Pilates
De Sillestraat 13 Den Haag
Zaterdagmiddag
13.15u tot 14.30u
Pilates during your pregnancy has a significant role in STRENGTHENING the pelvic floor muscles and the core, abdominal area. These muscles are key for SUPPORTING the spine, relieving back and neck tension, and stabilizing the hips.
In addition to these POSITIVE EFFECTS, a stronger core region contributes to preventing excessive pelvic floor tear during childbirth, and to a faster recovery of your belly muscles after delivery.

Being able to PHYSICALLY and MENTALLY RELAX is also important during your pregnancy.

The classes will learn you to MORE EASILY LET GO via focused breathing, practicing your concentration, and developing intentional control of your body.
Weekly continuous classes given in english, together with other pregnant moms. You can join when you feel like and follow till your date of birth. We do recommend starting between 12 and 25 weeks and to follow the weekly classes until your due date, for a better physical and mental balance and a good all-round preparation for your delivery. But even if you can/want participate later in the pregnancy, you're welcome, it always works to your advantage! The classes are suitable for every expectant mom.
Your (birth)partner is indispensable and plays an important role in the birth process. Birth Preps can therefore be booked additionally and in combination; mama move- short journey, well prepared, full journey of total prepared. Choose your strip card, membership or take a trial class first.
The classes can also be combined with our other weekly class offer. Choose your membership, stripcard or take a trial class first. Between the memberships there is a price advantage and extra options! Moving on after your delivery is also possible. Your membership and payment can be stopped from your due date until max. 3 months after your delivery, to continue with the postnatal classes.
The Mama Special classes provide, among other things, more knowledge and depth.
The following 'Mama Specials' are offered:
Birth Circuit (BC); we go through many birth positions through a circuit
Birth Breath (BB); all breathing movements that are important in childbirth are offered
Birth Together (BF); this is a nice prenatal yoga class together with your partner 
Birth Mindset (BM); positieve mindset is very important in childbirth! How do you do that and how to deal with stress & fear in birth
Mama Mindful (MM); this class focuses on you new mom. We talk and share, but there are also simple exercises to really experience the relaxation and feel peace and tranquility.
Register for the Mama Specials via our online schedule.
In addition, we offer the MAMA SUPPORT moment online for all (future) moms within our community, who are in need of explanation, support, questions and/or guidance. We give this group once a month for free! Register via the schedule.